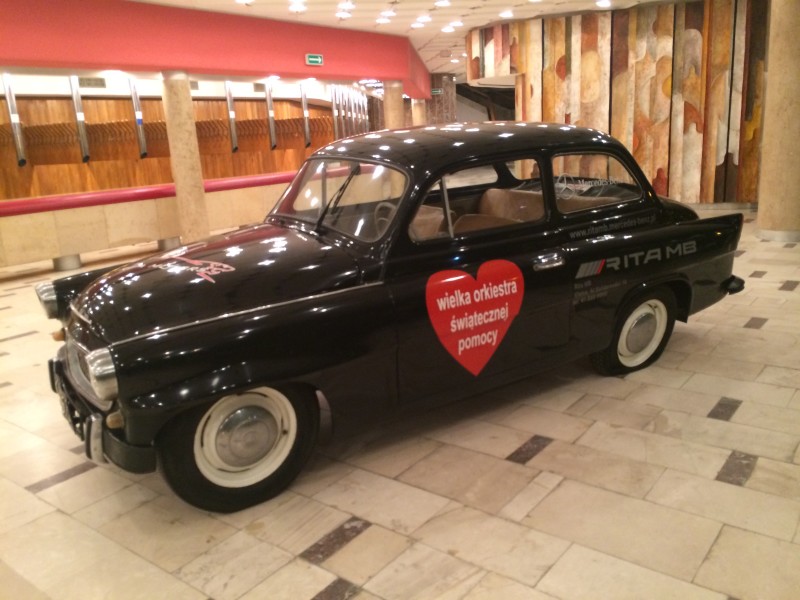 Finale of the Great Orchestra of Christmas Charity in Kielce. Great excitement at the final auction
PLN 8,000 – this, the highest recorded bit during the final auction of the Great Orchestra of Christmas Charity in the Kielce Cultural Center, for the famous 1961 Skoda Octavia. In total, the auctioned items were sold by a total of PLN 27,000
For over a dozen years it has been a kind of a passed-down trophy, recently, for two years it was used by a local businessman from Kielce – the owner of Mercedes and Peugeot car showrooms – Rafał Jaskulski. Now, he could not abandon his beloved car altogether, as he auctioned it jointly with Ewelina Rozpara, the PR manager of the Kielce-based VIVE Textile Recycling company, who represents Agnieszka and Bertus Servaas.
Mr. and Mrs. Servaas bought various exhibited items for a total of PLN 9750! The enormous compassion of the participants was skillfully managed by Jarosław "Foka" Bukowski, the auctioneer, who managed to double and triple the bids. As a result, the Dudek figurine from the Porcelain Factory AS Ćmielów auctioned by Adam Spała was bought for PLN 1300 by Monika Lipnicka, the Director of the Eco Textil Foundation.
Family shopping
The family of the entrepreneur Edward Jurek, who has accompanied the Orchestra for years, attended the event with his wife Adela and his three sons: Dominik, Karol and Piotr, their beloved women and granddaughter Laura. They bought three paintings, a coffee set from MEP Czesław Siekierski and an Eco Textil rehabilitation tricycle. Marshal Adam Jarubas really wanted to buy boxing gloves autographed by Krzysztof "Diabolo" Włodarczyk and Krzysztof Głowacki auctioned by Kazimierz Pękalski, in order to use them to defend the Voivodeship, but in the end they were bought by VIVE Textile Recycling.
Popular figurines
Robert Woźnicki, an entrepreneur, turned out to be an admirer of paintings. He bought the "Chęciny Castle" painting from Marshal Adam Jarubas and the "Tokarnia" from the starost Michał Godowski, for a total of PLN 700 . The Baba Yaga porcelain figurine donated by the marshal was bought by the renowned paediatrician Zdzisław Domagała, and was added to his orchestral collection, which he keeps right above his fireplace. It is curious that Artur Gierada, a Member of the European Parliament, bought the sculpture of Buddha donated by Wojciech Lubawski, President of Kielce.
Stage talents
The auctions were accompanied by performances of the finalists of the  Talent Świętokrzyski show. The audience was mesmerized by the Piramida Acrobatics Group. Grzegorz Cebulski captured the hearts of everyone with his dance, which recreated the scenes of  the "pirate" and the "Indian". Everybody hummed along with Dominika Sojda and Magdalena Paradziej to various tunes. Record sum At the end Jarosław Bukowski proudly announced that they managed to collect PLN 27,140!
Source:
http://www.echodnia.eu/swietokrzyskie/wiadomosci/kielce/art/9275570,24-final-wosp-w-kielcach-wielkie-emocje-na-finalowej-licytacji,id,t.html
Items bought at the auction by VIVE Textile Recycling