Sales rules
The type of packaging of the offered products may be tailored to the mode of transport chosen by the customer.

Worn clothing
30
Bag 50,
average weight 30 kg
50
Bag 50 Plus,
average weight 50 kg
100
Bag 100 Plus,
average weight over 50 kg
40 - 500
Pressed bale,
40 kg - 500 kg

Industrial towels
300
Pressed bales from 10 to 100 kg, packed on pallets with a total weight of
300 kg (the size of the package can be tailored to customer preferences)

Recycling materials
Different packaging based on
client's preferences.
We have three loading points that allow us to efficiently manage the distribution:

The Mass selling point
dedicated to loading heavy goods vehicles (towing engine and semi-trailer units, containers, BDF swap bodies) sent to Poland and Europe. We can organise transport for you.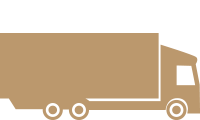 The Export sales point
dedicated to loading maritime containers, sent to Asia, Africa, North and South America.


The Wholesale point
for loading vehicles under 3,5 tonnes, dedicated to smaller wholesale customers and individual customers.